Reading Time:
5
minutes
Flow Leadership is simple. Simple is NOT easy! If it were, everyone would be doing it.
It's always great to work with young people who are starting out on their journey to achieving Flow. They've studied Agile and have, most likely, recently earned their Scrum Master certification along the way.
One of the better questions they have raised is "how do I use Flow in my daily work?"
Great question!
So, I am publishing a series of posts that are going to walk you through the simplicity and complexity of using Flow every day. I've mentioned multiple times, in the last 100+ posts that I did during 2021, that unless you take the mindsets, tools, and methods out of our books, trainings, and videos, you will not get full value from the Flow Leadership Framework and Mindset.
"You use the Four Lenses as a mindset to both sort and to communicate with the leadership and executives in your organization."
The Four Lenses
To kick off this series, I will start with Tile 1, the Four Lenses, in today's post.
.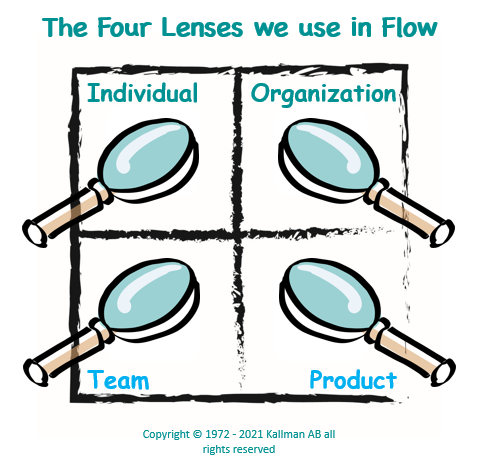 The Four Lenses (click the link to see a teach-back on this topic by Robert Heath, FCT) are straightforward:
Individual
People are at the center of everything that we do in Flow. Stepping into a personal state of Flow is the only path to achieving sustainable high performance. This is the foundational building block for Delivering remarkable results.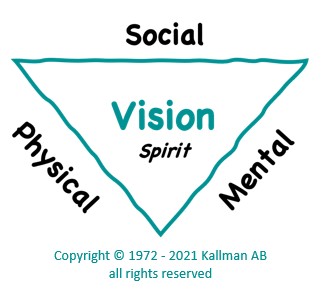 When you are working with your team members, remember to check-in on how they are doing mentally.
What books are they reading to build themselves up?
Do they feel psychologically safe in their team?
Do they feel trusted?
Does their individual Vision & Purpose connect to the Team's Vision & Purpose? How? (Explicitly draw it out).
Also, follow-up on their physical health.
What are they doing, proactively & pre-actively, to stay healthy?
Do your team members recognize warning signs that may point to burn-out?
Are they getting proper & balanced rest, nutrition, and exercise daily?
The most critical area is relationships.
Is there friction on your teams?
Is anyone exhibiting toxic behavior?
Does your organization have a zero-tolerance policy regarding bullying, hostile work environments, and physical violence?
Empathy is required to "read individuals." If psychological, physical, and/or social safety are absent, then you have a ton of work to do to restore a safe space in which to work. Plus, you need to work with your team members to help them enter and sustain an elevated level of Personal Flow. The triangle above is a quick reminder on how to train, coach, and mentor your team members in their journey.
Team
Already in the Individual lens we're overlapping the Team Lens (as well as the Product and Organizational Lenses) since people are key to all four lenses. That's why we start with the individual as the primary building block of culture.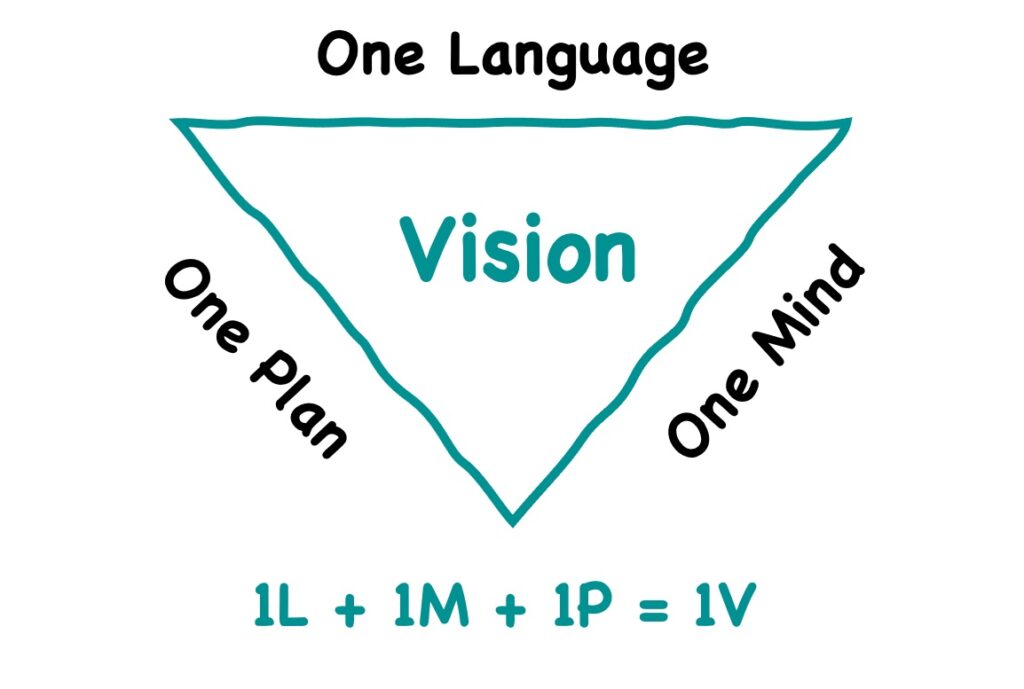 For your teams to step into a sustainable state of Team Flow, you need to have clear, transparent communications from which you can Distill agreement. Only then can you adapt and pivot your plans depending upon the changes that manifest along the way. You need at least two team members that have entered a state of sustainable Personal Flow for the team to have any chance of creating Team Flow.
Product
In this lens we include Program Management, Project Management, Line Management, Process Management, Technical Management, and any other middle management role that you can think of in an organization. The Triangle for the Product (and Organizational) Lens looks like this: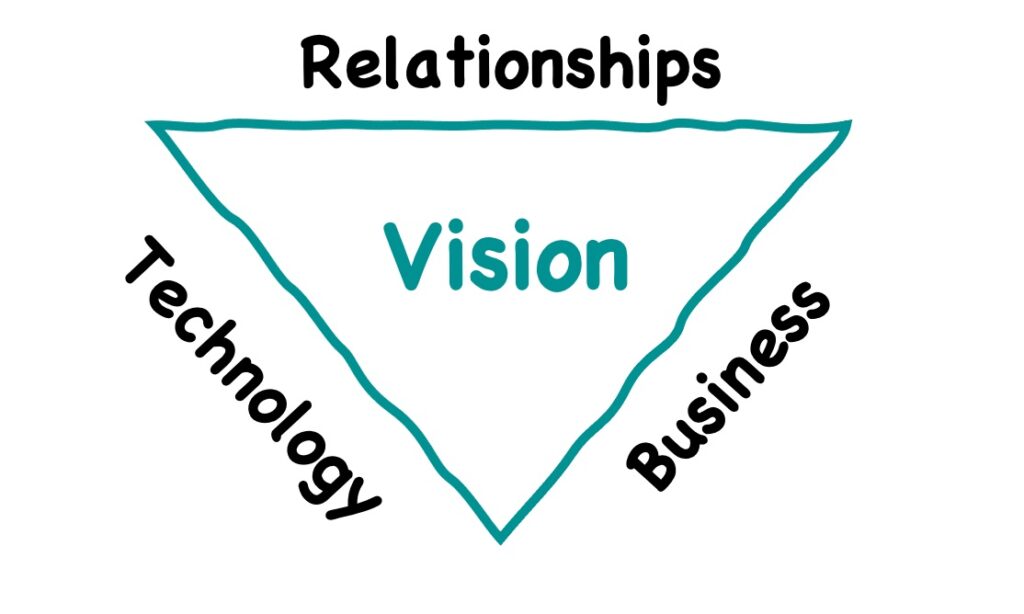 The Products' Vision is in the center. It is incumbent upon you as Flow Leader to work with each area to Deliver the Product, Service, and/or Results (PSRs) that are desired by the Customer. Business and Technology do not always speak the same language. They may think they are communicating, but most often they are just talking at each other. Understanding this key point is how you use this lens every day. Via the 4R Model and 4D Model, it is possible to bridge the gap, create common Definitions, Distill Agreement and then Deliver the desired PSR.
Organization
It is a simple fact that as organizations grow, complexity increases, communication channels grow exponentially, and friction increases between the silos that have been created. It is the Relational part of the triangle above that comes into play at the organizational level (Portfolio-level, on up). Agile purists absolutely detest hierarchies, but during the past 20 years since the Agile Manifesto was published, at best most organizations have only slightly flattened the pyramid. As a pragmatist, it is best to work with where the organizations are (and not where you wished they were).
Additional reading on Organizations
The Four Lenses gives you a simple tool to understand which Flow Leadership "tile" to use when you are working with any part of the organization.
The 18 Tiles
The first tile, the Four Lenses, as shared above is the first of 18 areas on which we focus in the Flow Leadership Framework and Mindset. In subsequent posts I will be walking you through how to implement each one to deliver outstanding results, every day.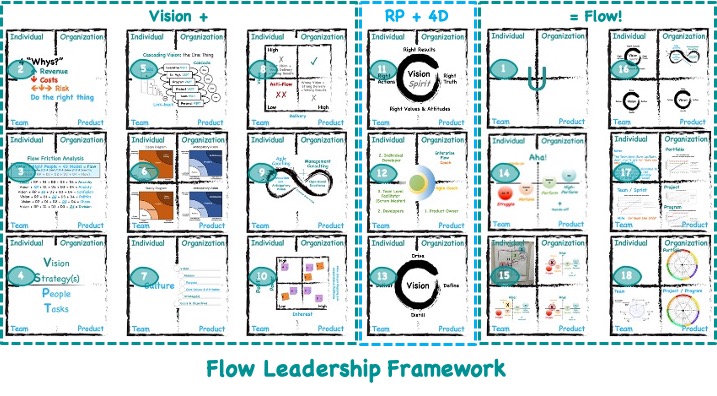 During the coming weeks we will be taking a journey through all 18 Tiles and how to use them in real life. One down, 17 to go!
Focus Led Organizations Win!
Flow is methodology agnostic and will deliver consistent, remarkable results regardless of what's being used at the individual, team, and product levels in an organization. That's been proven over-and-over again during the past 26+ years on assignments in Europe, North America, and Asia.
So, why is it that you aren't using Flow yet?
__________
For those that are not familiar with the Flow Leadership Framework & Mindset, it is what's next for businesses and organizations that are ready to succeed regardless of the methods, frameworks or management tools that they use throughout their enterprise. Flow is methodology agnostic.
Are you 'in the zone' of optimal performance right now as a person, team or enterprise? Did you get there by accident or by focused intentional acts?
"Flow" gives you the way of working and mindset needed to create and maintain an optimal state of high performance as an individual, team or organization.
The Flow Leadership Framework turbocharges everything you do, including "business agile" leadership and Scaled Agile.
__________
PS Here are the associated links to this blog post for:
#culture #scrum #agile #pmi #pmp #kanban #lean #flow #scaledagile #transformation #change #transform #leadership #digitaltrasformation #changemanagement #safeagilist #flowleadership #futureofwork #innovation