Reading Time:
2
minutes
With today's video we are completing the Voices of Flow series (31 parts). Today's video is a webinar with Hans Gillior and me (Bonus Video #2 – Surviving Scaled Agile).
In this webinar (it's long, just over 1 hour 20 minutes) we look at the results of the research Hans and I did into why organizations are experiencing such a high level of friction and heartburn when trying to implement scaled agile ways of working and/or trying to transform their organization.
The success rates are not encouraging and the situation hasn't changed, at all, during the past year. Consulting companies with which we work are routinely reporting, across-the-board, that their client's scaled efforts are going off the rails (almost without exception).
The results of our research should give pause for thought for anyone trying to scale or transform their organization; and, if you do not have a leadership framework and mindset in place that can effectively offset the friction, then your journey is going to be painful – very painful: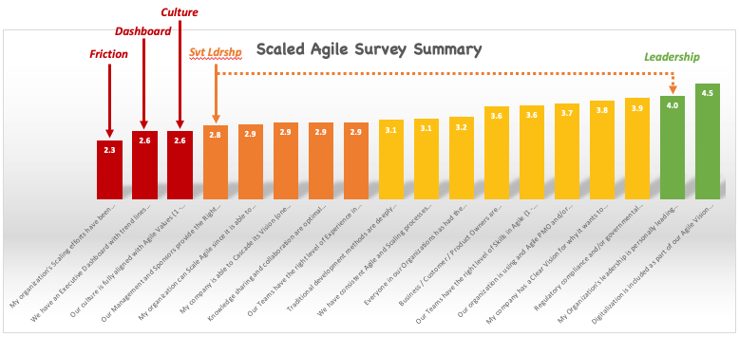 The link to the teach-back is here:
Understanding how to use Flow Leadership in successfully scaling and/or transforming your organization is the final steps in applying Flow to Deliver the results you want to deliver and that your organization so desperately needs.
So don't delay – let's chat!
__________
For those that are not familiar with the Flow Leadership Framework & Mindset, it is what's next for businesses and organizations that are ready to succeed regardless of the methods, frameworks or management tools that they use throughout their enterprise. Flow is methodology agnostic.
Are you 'in the zone' of optimal performance right now as a person, team or enterprise? Did you get there by accident or by focused intentional acts?
"Flow" gives you the way of working and mindset needed to create and maintain an optimal state of high performance as an individual, team or organization.
The Flow Leadership Framework turbocharges everything you do, including "business agile" leadership and Scaled Agile.
__________
PS Here are the associated links to this blog post for:
#culture #scrum #agile #pmi #pmp #kanban #lean #flow #scaledagile #transformation #change #transform #leadership #digitaltrasformation #changemanagement #safeagilist #flowleadership #futureofwork #innovation