Reading Time:
3
minutes
The Four Whys are simple. Simple is NOT easy! Flow helps you Focus and Deliver in a language the leadership understands.
The thing that really differentiates Flow from all other "get stuff done" frameworks and mindset that are out there is that it helps the practitioner communicate with all areas of the organization. It's also one of the few ways to measure friction (both positive and negative) in your teams and organizations (but that's a topic we'll dive into later). The Four Whys are a mindset and:
You use the Four Whys to increase the effectiveness of your communication with the leadership in your organization.
The Four Whys
The second part of this series is Tile 2, the Four Whys: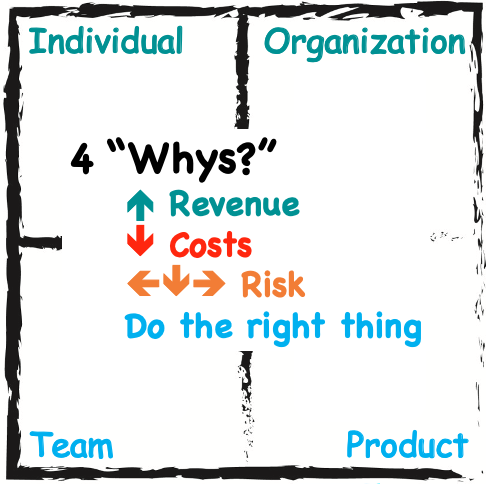 The Four Whys are simple (click link to see a teach-back on this topic by Andrew Henwood, FCT) and include:
Increase Revenues
This one is first because it's one of the easiest to measure. It's also one of the key performance measures for any organization. And you are speaking the language of the leadership and executives in your organization.
Decrease Costs
Saving costs are also high on most executives' wish-lists. This is relatively easy to measure and yet it can still be a little more complicated to nail down than the revenue part of the equation.
Mitigate or Eliminate Risk
Now we're getting more abstract. The actual cost of risk is never fully known until it manifests. Larger organizations can have complex, heavy tools and algorithms to put a monetary value on risk (usual within manufacturing, for example).
My view is that it's a balance. Only spend as much time as necessary in this area. A large organization that was a leader in its class globally invested an incredible amount of capital to implement a Risk Management System and had the 750+ Project and Program Managers, worldwide, input every risk for a year. Of the 50-100 thousand risks gathered during that first year, only 8% manifested.
Do the Right Thing
Many would argue that this one should go first. But it is the most abstract and difficult to measure of the Four Whys. It should be a given that an organization will behave ethically and morally. Unfortunately, that is not always the case. Everyone in the organization, especially the leadership, needs to not only talk-the-talk but to walk-the-walk. Without that mindset, well, the other three are pointless. Every organization has a higher purpose, whether explicitly stated or not.
Finally, remember to measure and keep track of the value-add that has been created by each of your teams for each assignment. That is something that we've done, diligently, for the past 27 years.
Additional materials on the Four Whys
The Four Whys gives you a straightforward way to communicate when you are working with any part of the organization including (and especially) the leadership and executives.
The 18 Tiles
The second tile, the Four Whys, as shared above is the second of eighteen areas on which we focus in the Flow Leadership Framework and Mindset. In subsequent posts I will be walking you through how to implement each one to deliver outstanding results, every day.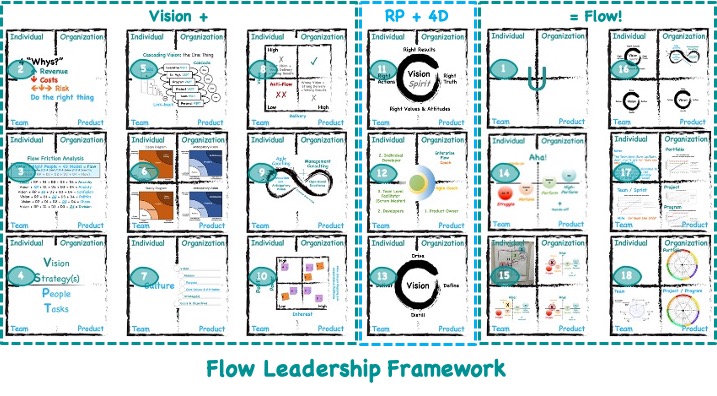 During the coming months we are taking a journey through all 18 Tiles and how to use them in real life.
Two down, 16 to go!
Focus Led Organizations Win!
Flow is methodology agnostic and will deliver consistent, remarkable results regardless of what's being used at the individual, team, and product levels in an organization. That's been proven over-and-over again during the past 26+ years on assignments in Europe, North America, and Asia.
So, why is it that you aren't using Flow yet?
__________
For those that are not familiar with the Flow Leadership Framework & Mindset, it is what's next for businesses and organizations that are ready to succeed regardless of the methods, frameworks, mindsets, or management tools that they use throughout their enterprise. Flow is methodology agnostic.
Are you 'in the zone' of optimal performance right now as a person, team or enterprise? Did you get there by accident or by focused intentional acts?
"Flow" gives you the way of working and mindset needed to create and maintain an optimal state of high performance as an individual, team or organization.
The Flow Leadership Framework turbocharges everything you do, including "business agile" leadership and Scaled Agile.
__________
PS Here are the associated links to this blog post for:
#culture #scrum #agile #pmi #pmp #kanban #lean #flow #scaledagile #transformation #change #transform #leadership #digitaltrasformation #changemanagement #safeagilist #flowleadership #futureofwork #innovation