Reading Time:
2
minutes
The Four Lenses used in our journey to excellence in Guerilla Leadership are the foundation on which all eighteen mindsets are built.
The four lenses are:
Individual
Team
Product (Program, Process, Project, Line Management, etc.)
Organization (Portfolio on up)
Here's how the Four Lenses look: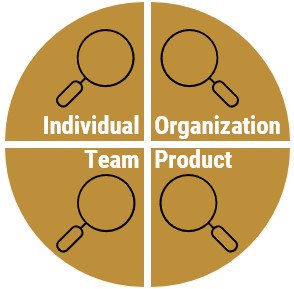 These lenses are simple, easy, and quick to understand and apply.
When we add in the eighteen tiles, it gets slightly more complicated: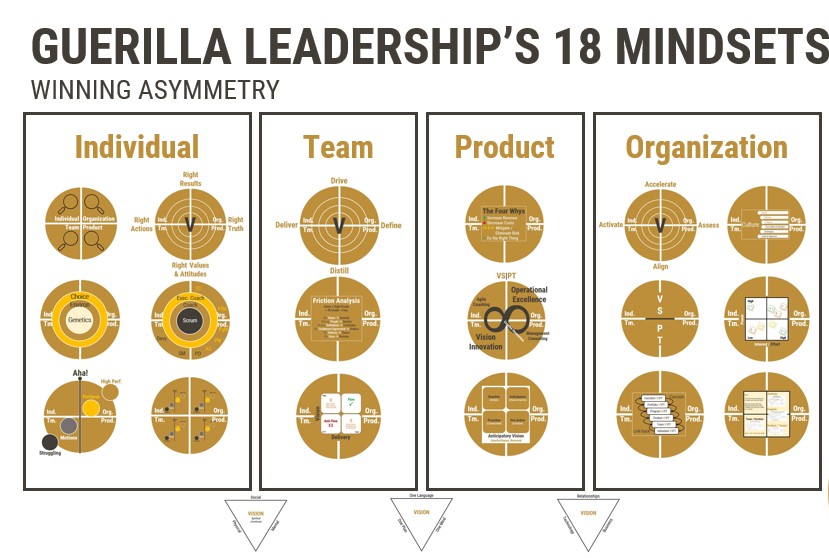 Six of the mindsets are all about the Individual and their personal journey to excellence.
Three of the mindsets are about the team and its journey.
Three of the mindsets are about the product (service and/or result) journey.
The final six mindsets are about the organizational journey to excellence, renewing the culture, cascading Vision, mitigating politics, and measuring your journey's progress.
YouTube Video
Leadership is simple to understand, but it is not easy to do.
It's time to take the mindsets (included in Guerilla Leadership) out of my books, blogs, training, and videos and start using them today! These will help you reach higher levels of excellence and performance: individually, as a team, in your product development as well as in your whole organization.
Need training, coaching, or mentoring to get started?
#flow #flowleadership #guerillaleadership #agile #scrum #CIO #CEO #COO #SAFe #leadership #LeadershipMatters #LeadershipDevelopment